Originally NSRGA and then Workin' Bridges raised money for individual bridges on a project by project basis. Then we moved to hands on – coordinating projects with the engineer, the craftsmen and the client.  We are a non profit and a contractor and use our proceeds for overhead not ever covered by grants. That overhead has increased dramatically over the last few years.
Large bridge projects (DOT) demanded insurance for new bridges (above and beyond our own historic trusses). This is risk management for their new bridges that have bypassed the historic trusses downstream.  B.B. Comer Project and at the Gasconade River Bridge are two projects that demanded risk management. One way we can handle that without insurance is our Historic Bridge Investment Account. We ran the numbers in 2016 and an investment account for risk mitigation would have also covered site, maintenance and security for bridges going forward utilizing interest.
Did you know?
Your donation of $250,000 would create about a 30% tax credit to those that can make large donations – a net cost of about 185,000. For those that can, your donation makes a huge difference to our preservation efforts. That money could save several pony trusses.

Passion Donations – We will make you feel good about saving our historic infrastructure. If you are eligible for a tax write off, great. If not, your donation of $10,000 – $50,000 can be structured to make a long lasting impact.

Bridge Parts – Be a real part of a bridge. Portals, Inclined End Posts, Vertical Posts, Floor Beams, Stringers, Planks, Clips/Bolts & Rivets all make up our historic bridges.

Small donations – buy a t-shirt – save a bridge. It's how we started nine years ago. See our website for the available merchandise.

Heritage Bridge Parks – we have two, now working on three. There was no other way to save these bridges than taking them on ourselves. Hayden Bridge on the McKenzie River in Oregon needs about $150,000 to open as a multi use trail. More land is coming. Craighead Bridge restoration efforts to kick off soon on Yellow Breeches Creek in Pennsylvania.  See the Scope of Work and Estimate to see where you might like to target your donation.

Helping a city or coun

ty choose our Scope of Work helps them make a good decision on the use of your tax dollars.  Historic bridges have been proven economic drivers to both large and small communities and local groups can be the spark that gets a project going.
The price of losing a bridge looks like the image in the newspaper below. This bridge could have been part of an economic impact to the area in the millions, every year, but it was decided by one person that the bridge could not be saved. The county didn't want it. The town didn't want it. The trails folks wanted it. The local Comer Bridge Foundation wanted it. Workin' Bridges wanted it.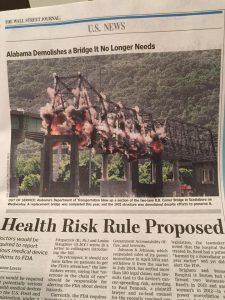 2017 The North Skunk River Greenbelt Assn Return