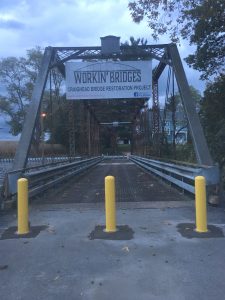 September 28, 2018 – Plans are underway for a Repointing Workshop on an Historic Stone Abutment on October 20th. Thats a Saturday. The signup form for those interested in the workshop as a student and those that want to participate that have no skills in masonry to speak of is below. The cost to participate is $275 and is listed as a donation to NSRGA / Workin' Bridges. Please call if you have any questions,641-260-1262 or email jbowerz1@gmail.com
August 3, 2018 – Craighead Bridge on Yellow Breeches Creek was at risk of demolition last year when we called the landowner and asked him if he would support and participate in the preservation of the bridge. He was interested. Then we tried to procure the bridge, which at the time came with about $120,000 of demo funds.  Those demo funds come with a lot of strings attached, and it was clear that we would not be able to clear those hurdles before the deadline, so we declined those funds.
We now have the easements procured from the township, we own the bridge from the county and we are working with the landowner to phase in repairs on the bridge. Our first will be the repair of the stone abutments and we contacted master craftsman Andy DeGruechy to advise us on what the cost would be to repair, or if we could do a class on how to teach how to repair.
Look for more news on the Craighead Bridge project in 2019 as we apply for grants to preserve this fabulous Pratt truss.