Announcements, Announcements, Announcements
Buy a T-Shirt, Save a Bridge Campaign – The design is at the printers. We are choosing a long sleeve and will get it out to our donors as soon as they are finished. We apologize for the delay.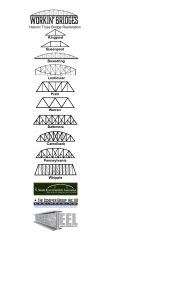 What's next?
Watts Mill Road Bridge – awaiting final signatures and then we commence with the Preservation Plan. Exciting. PennDOT funding. MOA signed with Beaver County for final ownership.
Long Shoals Bridge – awaiting KDOT decision on TAP funding – this little town needs our help. 8500 folks with a 1.3 million dollar project.
Hayden Bridge – Anonymous donations are finishing this bridge. Planks were installed in October and railing is currently being installed by ASF Ironworks. Opening 2019.
Craighead Bridge
PREVIOUS FUNDRAISERS: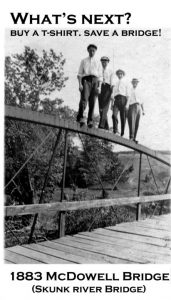 Save a Bridge – Maybe see The Boss
Buy a T-Shirt, Save a Bridge.
Save many bridges.
Andy DeGruchy has won the special "What's Next? Buy a T-shirt – Save a Bridge shirt with the tickets to see Springsteen on Broadway on Halloween. We will be having a bridge walk on the 31st, Halloween, if anyone in NYC or the try state is interested in joining us.
What: any donation of $30.00 or more gets a t-shirt somewhat like the image above. That t-shirt will have a pocket. In one of those pockets when we send out the shirts on September 16th, there will be just a little something extra, a lagniappe if you will.
2 Tickets to Springsteen on Broadway
Wednesday, October 31, 2018 12th Row Center Tickets
Where: Walter Kerr Theatre, 48th Street New York, New York
With:
New York City Walking Bridge Tour with our friend Hanna Griff-Sleven and Julie Bowers
High Line and Washington Heights and the Lower East side with Hanna Griff-Sleven
Lunch: Katz Deli (picnic supplies)
Extending the deadline for this fundraising to October or as soon as we can cover the cost of the tickets.
R.V Bowers Bridge Fundraising begins August 23rd at 12:01 am and continues until September 15th at Midnight
August 23rd, 2018 – R. V. Bowers Bridge Preservation Fundraising Launches
Today would have been my father, R.V. (Dick) Bowers, 100th birthday. He was the President of our board for several years during the early days of saving our Poweshiek County Iowa Bridge. His granddaughter Laran now serves as President of The North Skunk River Greenbelt Association.
For his birthday we are launching a fundraiser for our next 9 years of historic preservation of heritage bridges. You can help. Any donation is great but there are several different areas that we are trying to fund.
1. Investment Account – I have been talking about for several years. This account would be used for risk mitigation and it's interest would be used for site security and maintenance for our heritage bridge parks.
2. Preserving historic truss bridges takes a lot of miles, a lot of hard work and many experts. Workin' Bridges overhead for insurance has gone up steadily over the years and we are looking for unrestricted donations to help with those costs of preservation and the costs of the craftsman and engineer also continue to rise with the times. Not to mention, steel prices. Nope, not sexy at all, but it is the foundation upon which we can grow and build on our successes.
3. Heritage Bridge Parks – We have two and working on more.
a. Craighead Bridge in Cumberland County Pennsylvania is commencing fundraising. We have finalized all of the purchase agreements and the easements and are working with the local landowner to fund restoration. This includes master mason work, iron work and a new deck. The location makes this special for it's fly fishing and history in the Adirondacks.
b. Hayden Bridge in Oregon is getting set for planks and railing. We determined that if it is to go into the local parks the trail would need to be wider so we need those plans. In the meantime the site has been cleaned up (needs a bit more after fire season).
4. Adopt a bridge. We have several bridges that need site visits that cost $8000 – $10000. I can think of one in Iowa right now that we want to go visit. Your donation can be earmarked for the site visit. Those costs for W'B, the engineer and the craftsman, or other experts that visit the bridge render real numbers for the purposes of preservation. Real numbers help with decision making.
We have opened a brokerage account, so if stocks are your thing, we can take your donation and save you capital gains)
Checks to NSRGA PO Box 332 Grinnell, IA 50112 or call us and we can run a card, or send money through PayPal or Facebook.
Thank you for being here on our page. Invite your friends. We are going to continue to have as much fun as we can.
Previous Contests
Stormy won the bicycle provided by Bikes to You, Grinnell, Iowa for her depiction of Grins in our Revive 66 troll contest.